Hello there! Klockan har precis slagit 04, och den ena halvan av The Midnight Gay är här för att injicera en nästintill dödlig dos östrogen rakt in i hjärtat. Uff.
Hon är mig så oerhört kär, den lilla. Från början jämförde jag henne hela tiden med Izla – ARRRGHH varför blir hon aldrig rumsren? Izla kissade minsann bara inne två gånger HNNNGHHHH varför äter Lizzie sin egen skit? – för Izla var minsann endast lax och biff gott nog. PFFSFFS varför jagar och skäller hon på cyklister och bilister? Izla gick minsann alltid på vänster sida av vägen och stannade vid varenda korsning… och det gör jag fortfarande, men nu ser jag bara likheter. 🙂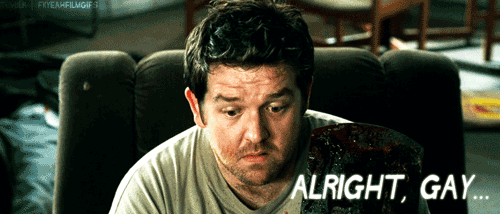 Å ett mer officiellt TMG-uppdrags vägnar kan jag vidare rapportera att jag fick se Colin Firth och Rupert Everett kyssa varandra idag. Det har man ju trots allt omedvetet gått omkring och väntat på ända sedan man såg The Importance of being Earnest.  Och antingen har min inre filmsnobb långsamt vittrat bort och dött någon gång omkring det 25:e The Apprentice UK-avsnittet den här månaden, eller så var St. Trinians 2 riktigt, riktigt rolig! Är det något mer ni undrar över gällande förmiddagstablåerna – TVEKA INTE ATT HÖRA AV ER! Jag har även lärt mig alla TV-shopsreklamer utantill, om den sortens specialinriktade sociala kompetens skulle efterfrågas på t ex fester eller dyl tillställningar!