The England team visited an orphanage in Poland today. "It's heartbreaking to see their sad little faces with no hope" said Igor, aged 6.
Vad är man för en sorglig martyr egentligen, som fortsätter att hålla på Englands landslag år ut och år in, mästerskap efter mästerskap, strafförlust efter strafförlust? Ska dock inflika att det har sina fördelar också.
VAOOK: "Mjaaaasså." (Försöker spela nonchalant och oberörd inför sin andra hälft. The stage has not lost a fine actress.) "'Scott Parker'? Spelar inte han i West ham?"
HF: "Nej, i Tottenham… Men han spelade i West ham innan."
VAOOK: (Mental gasp!!!!!!!!!!!!) "Ah. Tillsammans med Toby Stephens* alltså." (Lutar makligt huvudet i handen och undviker HFs blick, i ett försök att demonstrera mitt fotbollsintresse och på samma gång dölja de plötsliga andningsbesvären. Blåser omkull hans ölglas på en meters avstånd, och gardinerna börjar fladdra dramatiskt på andra sidan rummet.)
*Toby Stephens = min figur i Fifa11
HF: (Zone:ar ut.)
VAOOK: "Han är nästan löjligt lik Toby Stephens, faktiskt…"
VAOOK: "Ohhh mama…! Oj, shit, sa jag det högt? Förlåt, men vad är oddsen att min påhittade tv-spelsfigur ser exakt likadan ut som sin egen f.d lagkamrat av kött och blod? Skyhöga!"
HF: (Suckar, höjer volymen på teven.)
VAOOK: "Gastronomiska!"
HF: (Kastar en hastig, skräckslagen blick på mig. Inte "gastronomiska" väl? Inte så snart efter musincidenten!)
När jag äntligen hade lyckats stabilisera min hjärtklappning igen (och långsamt accepterat att en sådan oförstörd skönhet fortfarande existerar i naturen, samt bearbetat det faktumet att vi har arbetat sida vid sida i alla dessa månader utan att jag ens lagt märke till hans uppenbarelse*), så pekade mina värden så sakteligen uppåt igen. Ända tills jag googlade "Toby Stephens Scott Parker".
* = än en gång, i Fifa11.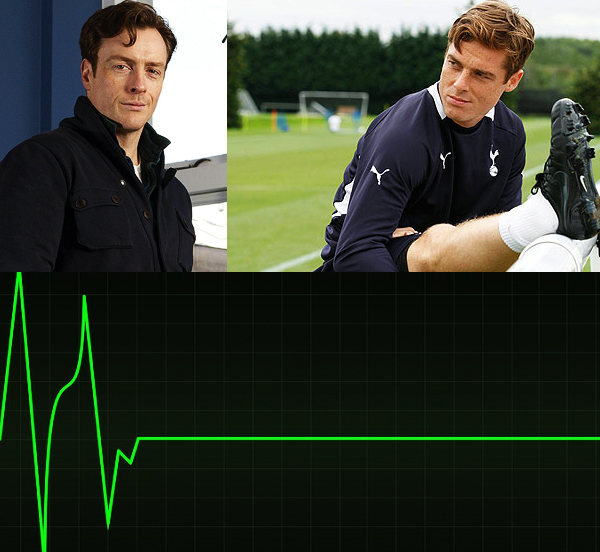 Stephens, Parker? Parker, Stephens?
PS. Min äggledare låter hälsa: "IIIIIIIIIIIIIIIIIIHHHHHHHHHHHHHH! Bring forth their seed of excellence! Bring it to me!!!"